That's right, I'm doing it again! Last year's book fight tournament motivated me to read books I probably wouldn't have otherwise.
I did make a few changes for this year:
All the books are from my TBR (no recommendations this time).
I've grouped them by genre, as best as possible, to make the match ups a bit more fair. So for example, an epic fantasy won't be going up against a non-fiction.
I've split the tournament into two rounds. This is mainly for visual reasons. Also, if you want to play along at home, you can choose to do only one round of 16 books instead of going the full monty of 32.
Without further ado, here are this year's match ups:
Ψ Tigana by Guy Gavriel Kay
Ψ The Grace of Kings by Ken Liu
Ω Savage Lands by Stacey Marie Brown
Ω The Last Dragon King by Leia Stone
ζ The Warlord Wants Forever by Kresley Cole
ζ Earth Witches Aren't Easy by Heather Long
ℵ The Restorer by Amanda Stevens
ℵ God Save the Queen by Kate Locke
ℑ Caraval by Stephanie Garber
ℑ Ink and Bone by Rachel Caine
ζ Lords of Sea and Sky by Starla Night
ζ Claimed by J.R. Ward
ζ Pleasure Unbound by Larissa Ione
ζ Dragon Actually by G.A. Aiken
ℵ Monster in my Closet by R.L. Naquin
ℵ Catastrophe by Liz Schulte
δ The Sum of All Kisses by Julia Quinn
δ A Night to Surrender by Tessa Dare
π Touched by an Alien by Gini Koch
π Engineering Fate by Alexis B. Osborne
θ A Tainted Mind by Tamsen Schultz
θ Until the Stars Don't Shine by Joanne Ho
Ξ I Dare You by Misti Murphy
Ξ See Me After Class by Meghan Quinn
Δ Walk it Off, Princess by David Thorne
Δ Fuzz by Mary Roach
Δ Smoke Gets in Your Eyes by Caitlin Doughty
Δ Final Exits by Michael Largo
Φ Scared Witchless by Amy Boyles
Φ Undead and Unwed by MaryJanice Davidson
ℵ Wiretaps and Whiskers by Emigh Cannaday
ℵ The Enchantment Emporium by Tanya Huff
Legend
Ξ Contemporary Romance
Φ Cozy Paranormal Mystery
Ψ Fantasy
Ω Fantasy Romance
δ Historical Romance
Δ Nonfiction
ζ Paranormal Romance
θ Romantic Suspense
π SciFi Romance
ℵ Urban Fantasy
ℑ YA Fantasy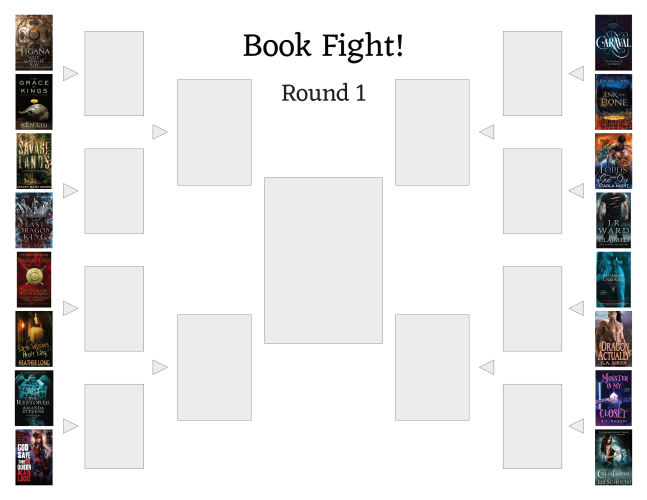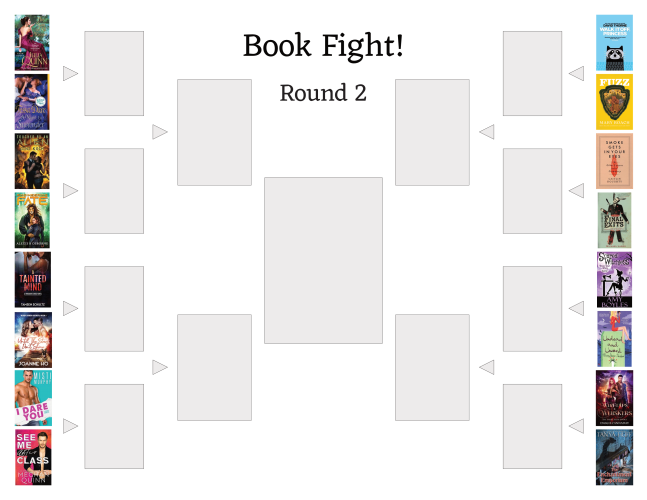 If you'd like to do your own Book Fight! here's a blank PDF version of the bracket.